Trends in kitchens that you can not miss
21 de October de 2022
Now that the long-awaited summer is coming to an end, it is the perfect time of the year to give a new image to our kitchen and start this new stage with renewed air and a new touch to our home.
The kitchen space is very important for many people within the whole of their homes being sometimes the place where "life is made". That is why we suggest the latest trends that are coming in strong in terms of decoration for kitchens.
Feng shui: a philosophy to decorate with harmony
One of the most fashionable trends for kitchens at the moment is to apply feng shui, a Chinese philosophy with a long tradition in that country.
The idea is to seek harmony and balance through the placement of objects within the distribution of a space, as well as thanks to the key use of different ranges of colors and materials.
In the case of colors we recommend neutrals and similar ranges with a more accentuated touch sometimes to mark a particular space. For example, beiges, whites, or earth colors are preferred to give a sense of peace, often combined with leaf green, orange or yellow to bring optimism.
It can be a good idea to use accent colors for tiles or backsplashes while neutrals can be applied through countertops made of materials such as smooth marble or stone with a slight veining. The use of wood materials is also a good option to use in kitchens of this style, both in floors and walls as well as furniture.
Black and white
This is a trend that derives from minimalism, timeless and very versatile. It will provide our kitchen with elegance and simplicity at the same time. It admits textures such as metallic or satin on both walls and countertops, and materials with textures of high relief type such as white paste.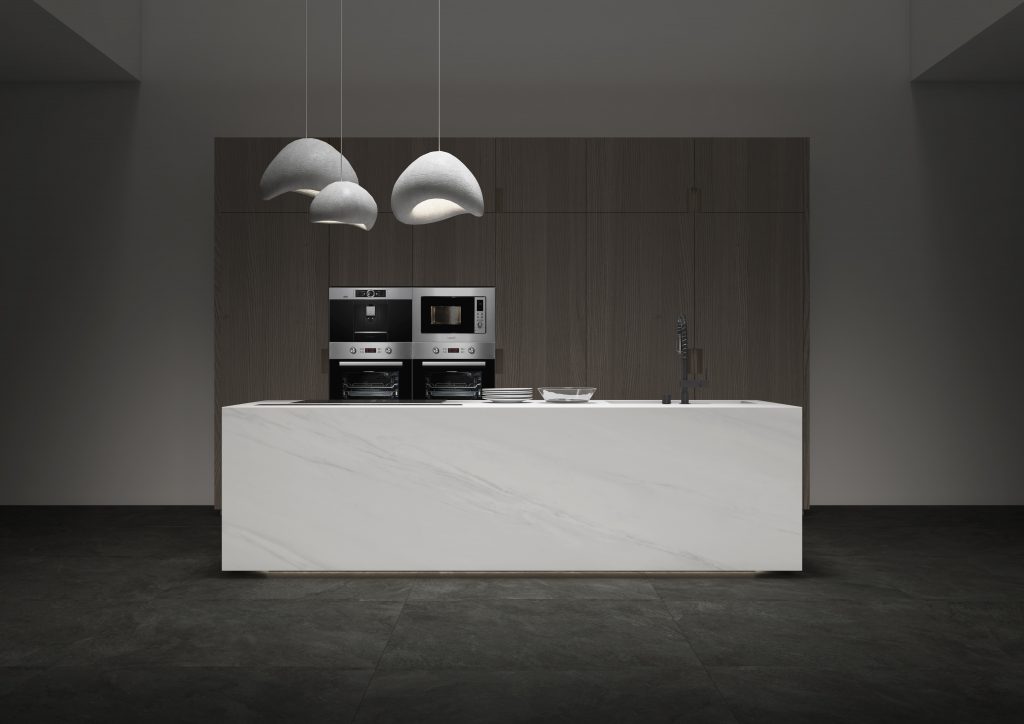 As for colors they match very well in terms of blacks such as graphite and white pearl white, to bring purity and cleanliness.
A useful tip to avoid excessively monotonous kitchens without losing the essence is to place chairs of different styles around a kitchen island or table, but in equal pairs.
Bright and vibrant colors
The other side of the coin, decoration with vibrant and bold colors. A safe bet to bring joy and personality to our kitchen. The idea is to decorate with ranges of complementary colors on all surfaces and elements of the kitchen, in addition to using bright materials.
Another option is to use a similar chromatic range in matte colors but highlighting specific elements, such as wall tiles to create herringbone mosaics or showing images such as landscapes or jungle prints, and even introducing textures with daring materials such as textiles.
As for specific colors, the trend of bright oranges or lime greens prevail, without forgetting the range of violets or magenta.
We hope these ideas will help and inspire you to give a special touch and renew your kitchen this fall 2022.