Coloured kitchen worktops in fashion for 2023
29 de September de 2022
Choosing different coloured kitchen worktops can be the most enjoyable part of a renovation, but it can also be the most frustrating. Because visualising the final result with just a few stone samples isn't easy.
That's why today we are dedicating this post to reviewing the trending colours for kitchens heading into next year.
White kitchen worktops: a basic that never fails
In interior design, there are colours that just don't go out of fashion. This is the case with white, which is consistently popular every year. With a glossy or matt finish, white worktops are the most appealing option for those looking for extra brightness.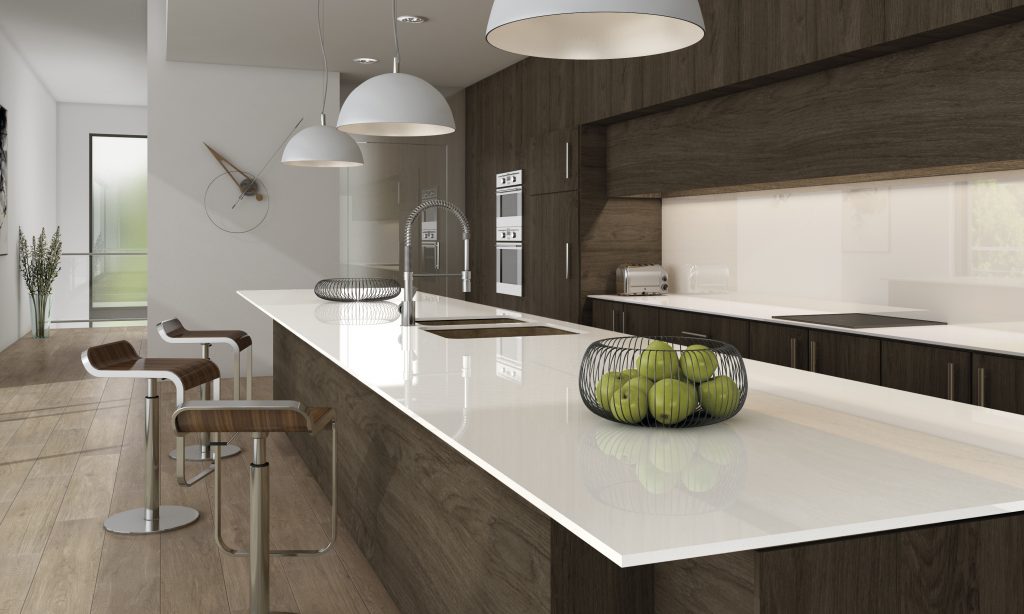 At Ascale we have two completely smooth white stone models that will delight the most minimalist of customers. We can find them within the Croma and Essential collections.
Kitchen slab marble colours for wood kitchens
If we don't want such a pure white finish, check out the new kitchen worktop colours from the Marble collections. Next year we will have up to 10 different designs with a white background.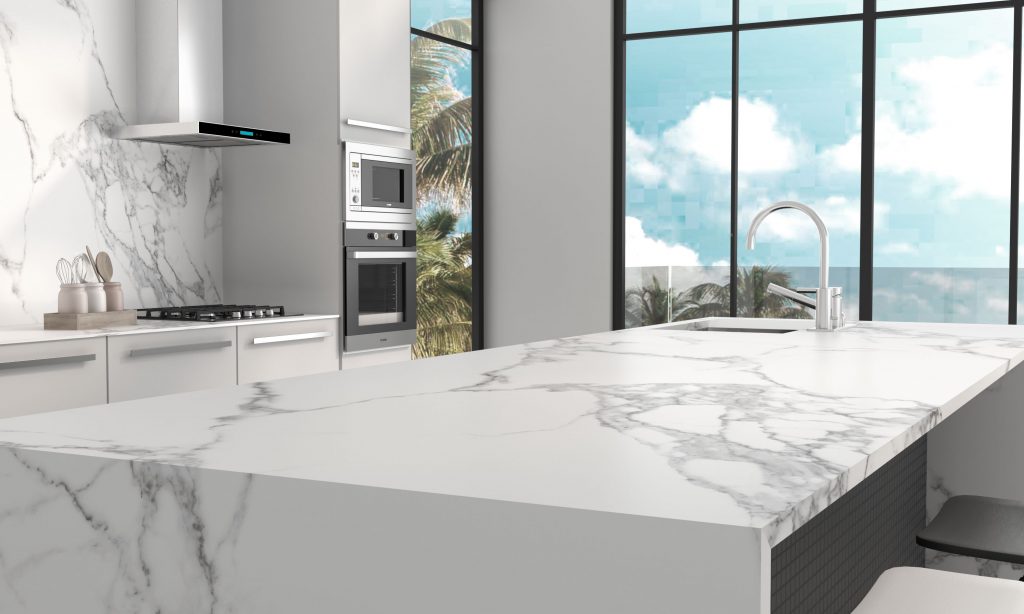 According to the style we want to give the room, we can choose from among stones with veins in different chromatic ranges, from the deepest black to the most delicate golden tones.
We just need to ask ourselves if we want kitchen slab marble colours that transport us to a classic Italian kitchen, or if we prefer a more modern and chicer look.
Beige worktop for softer kitchens
For those of us who lean towards warmer colours, we're in luck! As well as stones with a wood finish, which are another staple, we have smooth options in beige tones.
In this case we can achieve a completely smooth cream colour within the Croma collection. This coloured kitchen worktop has a matt finish and is an interesting solution if we're considering a design that combines two tones.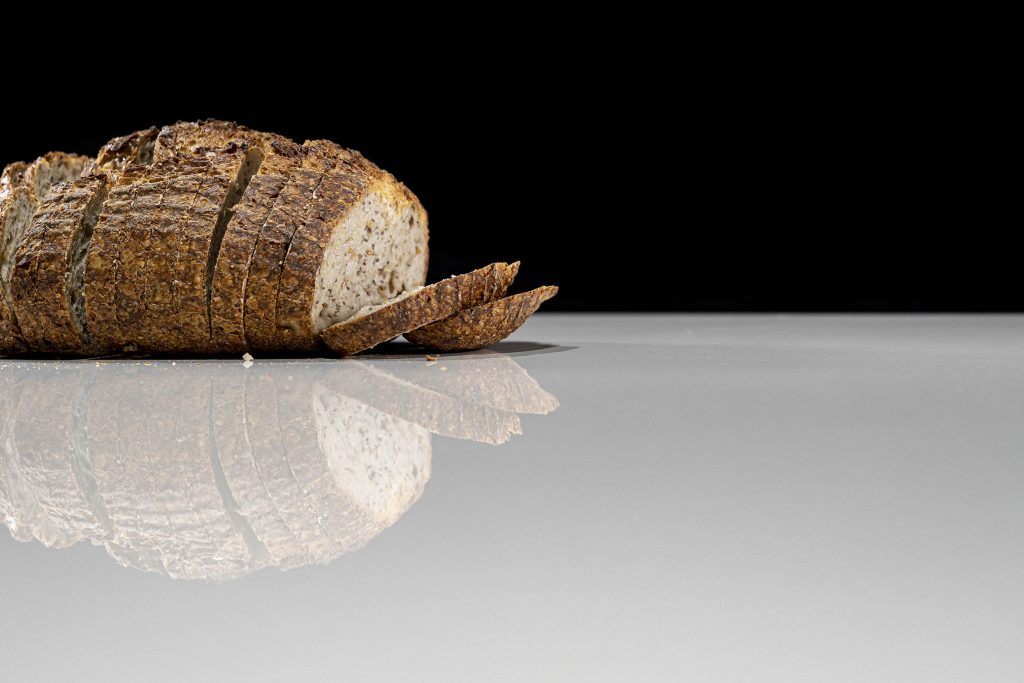 An alternative with more character is the new Cosmopolita Ivory stone from the Cement collection. With this offer, the coloured worktop creates a watercolour effect with earthy tones, simulating this material. It will give the room an urban and light-hearted look.
Grey kitchen worktops, the big trend in 2023
But if there is one colour that looks like it will claim the crown for the most popular in renovations next year it is grey. Because within this chromatic range, we have something for all tastes.
Apart from the Croma collection, which has two smooth grey tones, in this field the natural finishes are the most appealing. For this, we can look to the Marble and Cement collections, which have veins in white tones and whose watercolour effect will give our kitchen a personal look.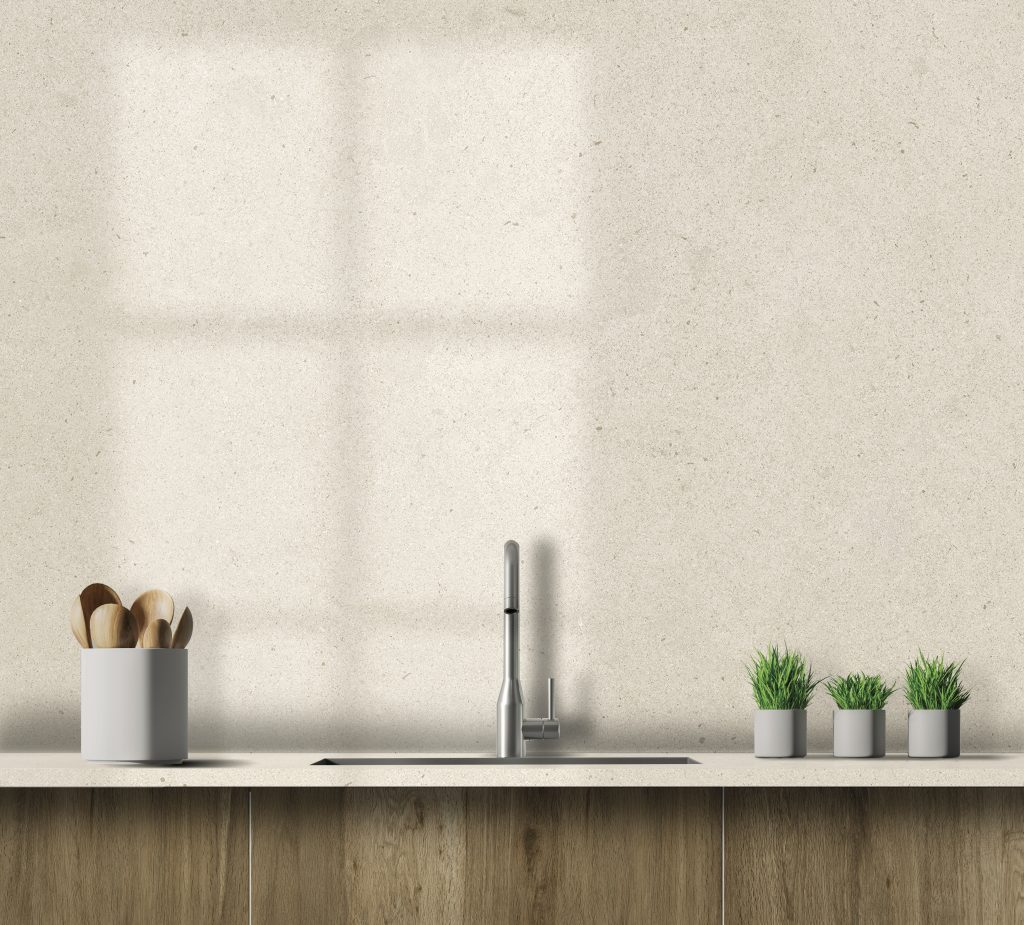 If we're looking for something a little more special, the Stone collection is for us. Its kitchen worktop colours are neutral, but their design based on veins and nuances manages to simulate a unique, natural texture.
Whether we go for a minimalist model or something with more personality, the different tones of grey will clearly be among the colour trends for modern kitchens next year.
How do I choose between different coloured kitchen worktops?
Having so many options makes choosing a colour more complicated. If we also consider that seeing a small sample is not like seeing the worktop in full, the situation gets really tricky!
If you want to be successful, be practical. We won't renovate this room very often, that's why at Ascale we recommend opting for coloured kitchen worktops that will stand the test of time.
Ultimately, the trick is to leave the most striking colours for the decorative parts, so we can easily change them. And in case we want a striking worktop colour, seek professional advice to keep the room pleasant and balanced thanks to the other elements (walls, cupboards, floors, etc.).